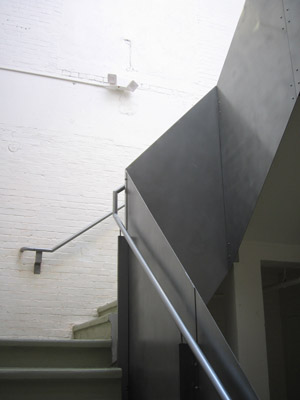 A Stair Railing for an Existing Concrete Stair

We were hired by the building owner to design a railing for an existing stair because the Landscape Architects who were contemplating moving into the floor it serves demanded that "something" be done about the quality of the space as a requirement of their signing a lease.

The Stair provides access to a 5,000 square foot office space which was formerly inhabited by a famous architectural firm. The structure is cast in place concrete and dates from the early part of the 20th century.

This was an industrial building and so the geometry of the stair is squeezed more tightly than if one designed it today. There is little room between the first riser and adjacent door and at each ninety degree turn, two risers are essentially stacked on top of each other necessitating a vertical kink in the handrail to maintain continuity.

The original rail was heavy pipe and did not concern itself with this problem. Our goal at the outset was to organize all of the haphazard geometry into a unitary piece of architecture that would appear intentional and provide the upper level office with a significant entry experience.

We also made the decision at the outset to open up an existing 5 by 8 foot skylight in what had been a completely closed brick stair tower, lit only by a pair of par lamps that switched on when ever someone entered.

With the access to daylight at the top of this tower, we began to think of the railing as something that could draw the available light down toward the bottom. This led to thinking about the railing as a continuous surface and in the end, became the unfolding or ascending ribbon that you see here.

Steel was selected so that the rail would be its own structure and there would be no issue of fire resistance or resiliency. The material is 1/8" thick steel plate that was completely sanded and then sprayed with a clear sealer.

The code determined the height of the rail above the treads at the top and bottom of each run. Because of the double riser condition at the turns however, the adjacent required heights were not in the same place. So we somewhat simply accepted the top point and connected the dots around the corners. This gesture removed the choppiness of the underlying structure and produced the continuity of the top edge.

At the underside, there were similar issues. The stair sloped to the bottom of the landings, ran vertically, turned the corner and received the supporting columns from below. So we picked the determining points and again connected the dots. Because the issues of the bottom are not the same as those of the top, the two edges of the railing are not parallel.

This kind of "automatic" determination of form reinforced the unfolding character of the ribbon.